FORT BRAGG, N.C. —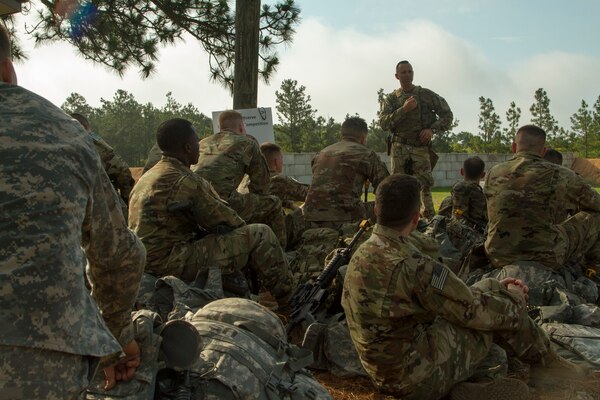 Master Sgt. Russell Moore, combat heavy engineer, 416th Theater Engineer Command of Darien, Illinois, NCOIC USARCMP Service Conditions/Combat Team conducts a safety briefing before the Combat Pistol Excellence in Competition event at the 2018 U.S. Army Reserve Best Warrior Competition at Fort Bragg, North Carolina, June 10, 2018. This year's Best Warrior Competition will determine the top noncommissioned officer and junior enlisted Soldier who will represent the U.S. Army Reserve in the Department of the Army Best Warrior Competition later this year at Fort A.P. Hill, Virginia. (U.S. Army Reserve photo by Sgt. Anshu Pandeya) (Released) (Photo by Sgt. Anshu Pandeya)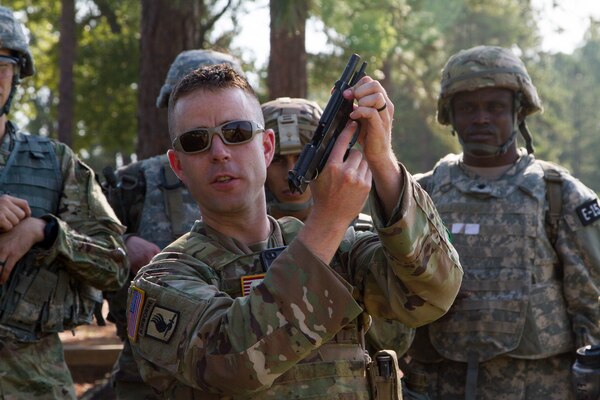 Sgt. 1st Class Chris Volmer, Fox Company, 3rd Battalion, 415th Infantry Regiment, 95th Training Division of Boise, Idaho and USARCMP member demonstrates weapon handling during a safety briefing before the Combat Pistol Excellence in Competition event at the 2018 U.S. Army Reserve Best Warrior Competition at Fort Bragg, North Carolina, June 10, 2018. This year's Best Warrior Competition will determine the top noncommissioned officer and junior enlisted Soldier who will represent the U.S. Army Reserve in the Department of the Army Best Warrior Competition later this year at Fort A.P. Hill, Virginia. (U.S. Army Reserve photo by Sgt. Anshu Pandeya) (Released) (Photo by Sgt. Anshu Pandeya)
Noncommissioned officers and junior enlisted Soldiers competing in this year's U.S. Army Reserve Best Warrior Competition will not only have the opportunity to be the Best Warrior, but also to accrue points to earn a rare distinction in the Excellence in Competition Program.
Gen. Phillip H. Sheridan implemented the EIC program in 1884 to cultivate the Army's tactical proficiency and lethality of force.
"It was started to improve marksmanship training techniques, improve weapon and ammunition capabilities, raise proficiency of service rifle and service pistol throughout the Army, provide an opportunity to excel through competition, and establish a basis for quality marksmanship instructions. And that's pretty much the way it is now," explained Roscoe Castle, EIC custodian at the U.S. Army Marksmanship Unit at Fort Benning, Georgia.
Civilians and service members alike are eligible to compete, though the two populations earn separate badges. Soldiers can only earn the Distinguished Marksmanship Badge by competing in Excellence in Competition matches for rifle or pistol. Competitors must accumulate 30 points throughout three competition tiers to earn a Distinguished Badge. Soldiers earn their first 10 points in Tier 1 to receive the Bronze EIC Badge. The top 10 percent of Best Warrior competitors at the combat pistol EIC event will earn this badge.
Soldiers must earn their next 10 points in Tier 2 to receive the Silver EIC Badge, and Soldiers who earn the final 10 in Tier 3, totaling 30 points, receive the Distinguished Badge. Soldiers can also compete in intercontinental events for an international badge. To date, the Army has only awarded badges to 1,856 pistol shooters and 3,389 rifle shooters. Only 438 marksman have earned both honors, and there are just 16 awardees in the history of the competition who have all three.
"It's a permanent-wear badge issued by the Department of Army with a set of orders that permanently replaces your marksmanship badge, in this case, for pistol," said Master Sgt. Russell Moore, a combat-heavy engineer for the 416th Theater Engineer Command based in Darien, Illinois, and noncommissioned officer in charge of the Best Warrior pistol match.
"You don't see them (EIC badges) very much. Everyone says, 'You can't be wearing that foreign device.'" Moore explained to the competitors. As one of the few Soldiers who has earned distinguished badges in both categories, Moore told the competitors to respond, "Hey, sergeant major. It's one of the oldest devices in the United States Army."
This year's Army Reserve BWC will determine the top noncommissioned officer and junior enlisted Soldier who will represent the U.S. Army Reserve in the Department of the Army Best Warrior Competition later this year at Fort A.P. Hill, Virginia. But even if Reserve competitors don't advance to the Army-wide competition, they still have the special opportunity to receive the EIC Bronze Badge and the points toward earning the rare Distinguished Marksmanship Badge.
http://www.usar.army.mil/News/Display/Article/1546973/best-warriors-compete-to-earn-rare-marksmanship-badge/