#usarcombatteam
#BestWarriorCompetition
#RoadtoAwesome #KeepPounding #AmericasArmyReserve #USArmyReserve #WeaponsMastery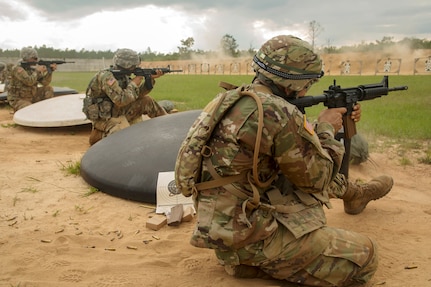 The 2019 Army Reserve Best Warrior Competition (BWC) held at Fort Benning on 10-30 June was the selection event to determine the USAR NCO of the Year and Soldier of the Year. The winners were determined by their performance in over 25 scored events over a five-day period. Events included the Army Physical Fitness Test, marksmanship, medical, land navigation, boards, and 10-level Soldiering skills. They will represent the USAR in the Department of Army Best Warrior Competition.
Army Reserve Marksmanship Program personnel led by Master Sgt. Russell Moore (416th TEC), NCOIC of the Army Reserve Combat (Service Conditions) Team, took the role of Marksmanship/Live Fire and Scoring NCOICs for the BWC. Marksmanship Program personnel provided instruction on the conduct and scoring of national-level competitive military events as well as current and upcoming Army marksmanship doctrine.
"The objective of the Best Warrior Competition is to create relevant events via national and international level military competitions," said Master Sgt. Moore. "We maintained the sanctity of the marksmanship events and conducted an Excellence In Competition match for the BWC cadre and competitors."
Shooting Team members conducted a Train The Trainer event for 95th DIV Drill Instructors, introduced numerous drills and terms directed by the new Army small arms Training Circulars. This educated the competitors and other BWC cadre on the new Rifle Zero Target, Dual Beam Aiming Laser, PVS-14 NVD monocular, and the Excellence In Competition program. The Team also designed and conducted zero exercises, 3 Gun match, M4/M9 Stress Shoot, modified rifle ALT-C Zero validation, CCMCK (Close Combat Mission Capability Kit) Shoot House, night M4 stress shoot with NVDs and lasers, German Armed Forces Badge pistol match, and Law Enforcement Weapons Training and Qualification course of fire. Marksmanship Program members created a proprietary scoring procedure to more accurately assess the competitor's actual placing within the group in a more precise manner than that used during routine qualification.
A total of 104 Soldiers had the opportunity to shoot the Pistol EIC match with the top ten percent earning "Leg" points among the 62 USAR BWC competitors and 100 Cadre. The USAR Marksmanship Team designed, validated, and officiated 10 live fire events, including the creation of three new events for the USARC BWC.
https://www.usar.army.mil/News/News-Display/Article/1896630/army-reserve-marksmanship-at-the-best-warrior-competition/