#LetsGoShooting #RoadtoAwesome #KeepPounding #AmericasArmyReserve #USArmyReserve #WeaponsMastery #USARCombatTeam #USARPistolTeam
Fort Knox, Ky.
Events held by the Hatchet Battalion leads to multiple Soldier training successes, Excellence In Competition, and the Army Reserve's national-level marksmanship program.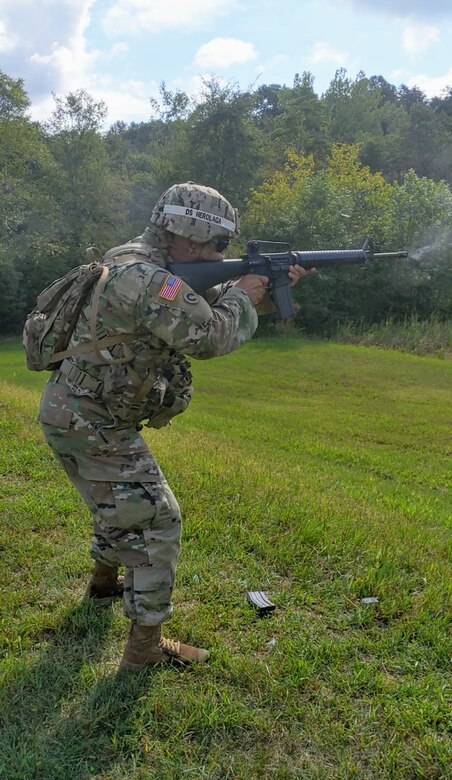 Soldiers of the 2-397th (104th Training Division) conducted a Leader Training event called Sharpened Steel at Fort Knox to hone skills necessary to Soldiers and leaders. The Hatchet Battalion successfully completed two Excellence In Competition events with several Soldiers earning permanent awards for their superior performance.
Holding both pistol and rifle versions of Service Conditions (Combat) Excellence In Competition events at Fort Knox, the pistol event resulted in one Soldier being awarded the EIC Bronze Pistol badge and the rifle event had two Soldiers achieving the distinction. This was the first time the Hatchet Battalion held either event and their command reports a heightened Soldier interest growing as a result.
Their training began with each Soldier establishing Data On Previous Engagements at each yard line and cadre like Sgt. 1st Class Frasier noticed the advantage of using these types of targets. "For many, it was their first time seeing how their shot groups opened up as they moved further from the target."
The training culminated in an Excellence In Competition Rifle event consisting of timed stages from 400, 300, 200, and 100 yards, and then a Close Quarter Battle stage shot at 75, 50, and 25 yards. The Pistol event was a mix of precision and speed from multiple positions and distances at 30 yards and in. This training is a holistic test of Soldier lethality because it incorporates short and medium range engagements, different shooting positions, speed reloads, and – in the Rifle event – a 25 yard rush to each firing line.
Even Soldiers finishing lower in the rankings found value in the event. Supply NCO Sgt. Vanderpool explained, "I've never been taught a lot of the marksmanship techniques that were shown. I learned a better way to hold the M16 and gained confidence in my marksmanship skills."
In addition to the event being a tremendous training opportunity, Sgts. 1st Class Daugherty and Combs received their EIC Bronze Badge, which supersedes the expert badge on the Army Service Uniform, for scoring in the top 10% of the match.
Also during training year 2019, the Hatchet Battalion had two Soldiers compete as members of USAR Competitive Marksmanship Program, with Sgt. 1st Class Combs participating on the Service Pistol team and Command Sgt. Major Michael Ball participating with the Service Conditions/Combat team at the Armed Forces Skill At Arms Meeting. Their participation on the teams has improved the Battalion's marksmanship training as they bring what they've learned back to the unit. As an Army Reserve Drill Sergeant unit, the Hatchet Battalion's Drill Sergeants will take what they've learned and teach it to new Soldiers in Initial Entry Training, which will immediately impact marksmanship skills across the entire force.
https://www.usar.army.mil/News/News-Display/Article/1965677/sharpened-steel-improves-leadership-training/